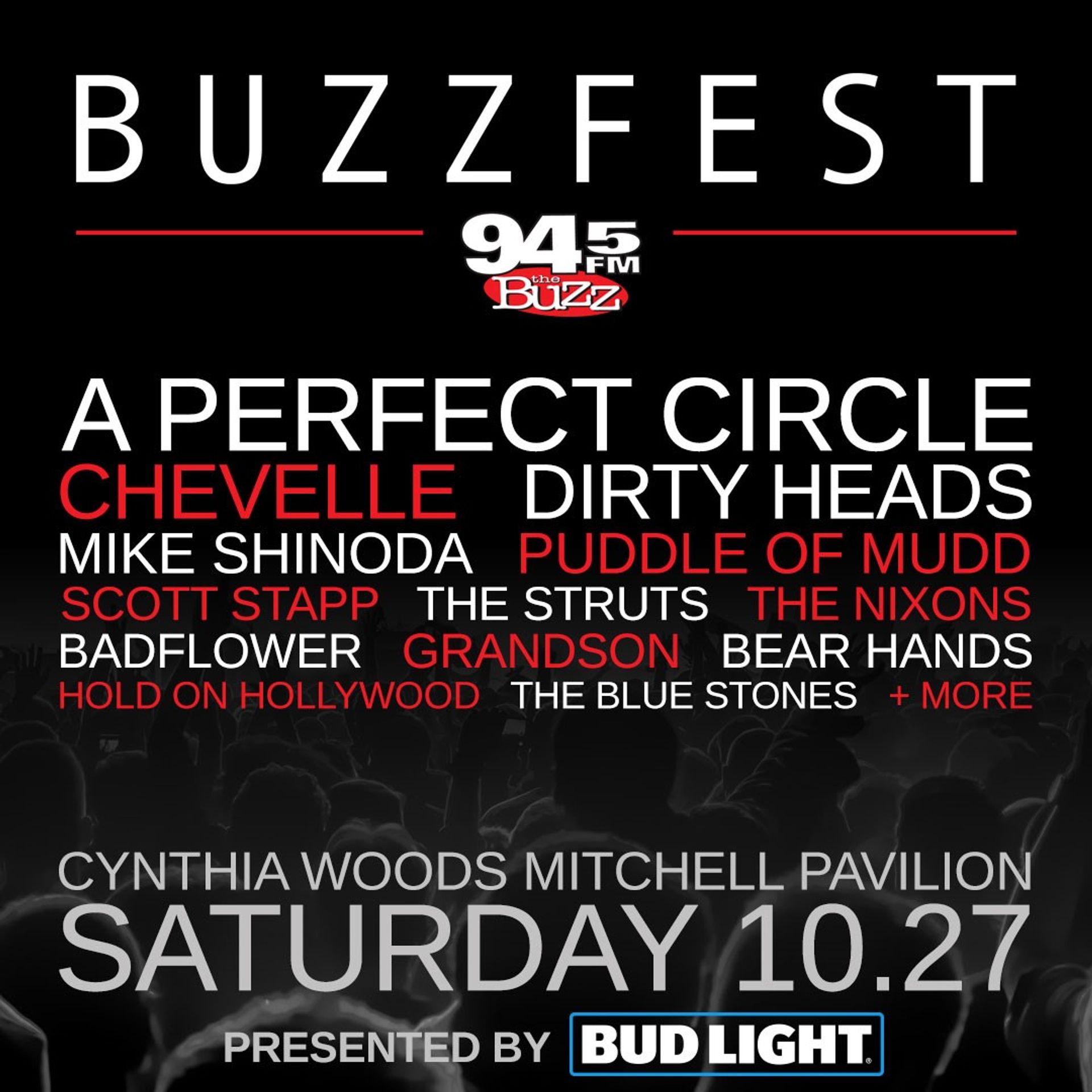 Buzzfest
10/27/2018
Show at 06:00 PM
Featuring A Perfect Circle, Chevelle, Dirty Heads, Mike Shinoda, Puddle of Mudd, Scott Stapp, The Struts, The Nixons, Badflower, Grandson, Bear Hands, Hold on Hollywood, The Blue Stones, Kulick and more
BUZZFEST: A Perfect Circle, Chevelle, Dirty Heads, Mike Shinoda, Puddle of Mudd, Scott Stapp, The Struts, The Nixons, Badflower, Grandson, Bear Hands, Hold on Hollywood, The Blue Stones, Kulick and more
OCTOBER 27, 2018 | 1 PM | Gates Open at NOON

No backpacks, bags or purses larger than 8.5" x 11" will be allowed into the venue.
Lawn chairs will not be available to rent for this show.
No blankets, tarps, umbrellas, or lawn chairs. Lawn chairs will not be sold at this event.

GA PIT: $175
RESERVED SEATS: $72.50, $62.50
LAWN: $42.50


---
Buzzfest is back!
This is the best way to spend a Fall Saturday - jamming with some of the biggest names in rock at The Pavilion.
Costumes
Costumes are welcome at The Pavilion, with the following restrictions.

Costumes cannot include:

masks or face hoods (faces may be painted, but not hidden or obstruct identification)
weapons or weapon accessories including, but not limited to, swords, daggers, axes or guns
sharp or pointed objects, such as metal spikes or materials that may accidentally strike another guest
chains, ropes, whips, crops or staffs
glass or ceramic pieces
blow-up suits or props
guests may not dress in police, fire department, swat, security personnel or military costumes
Additionally, costumes must be able to comfortably fit into the guests' seat or designated area without obstructing the view or space of those around.
Guests who do not adhere to these guidelines or whose costume is offensive in nature may be refused entry into the event unless his or her costume can be modified to meet the above standards.
Tentative Schedule
Main Stage
Bear Hands 1:20 to 1:40pm
Grandson 2:00 to 2:30pm
Badflower 3:00 to 3:40pm
The Struts 4:10 to 4:55pm
Scott Stapp 5:25 to 6:25pm
Chevelle 7:10 to 8:30pm
A Perfect Circle 9:25 to 10:55pm
Second Stage
Kulick 1:00 to 1:20pm
Hold on Hollywood 1:40 to 2:00 pm
The Blue Stones 2:30 to 3:00pm
The Nixons 3:40 to 4:10pm
Puddle of Mudd 4:55 to 5:25pm
Mike Shinoda 6:25 to 7:10pm
Dirty Heads 8:30 to 9:25pm
Read More...
Close