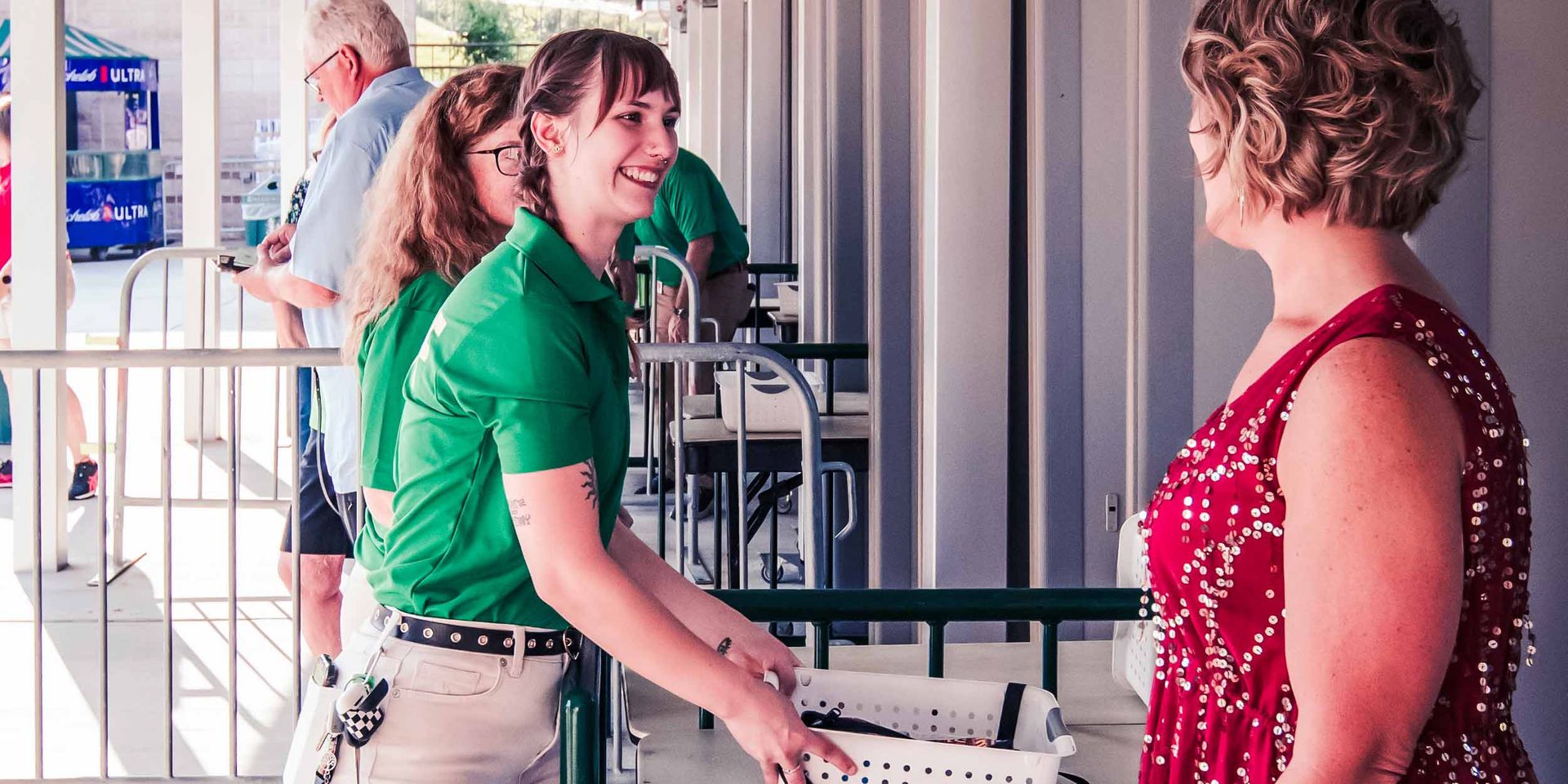 Accessibility
The Pavilion strives to create an enjoyable experience for all of our guests. Guests with disabilities who are visiting The Pavilion may find the following information helpful. Please note, that while we make every effort to accommodate guests with disabilities, space is limited and available on a first come, first served basis.
If you require medical assistance during your visit please ask a staff member to escort you to the First Aid office.
Drop Off
A driveway for passenger drop-off and pick-up is available in front of the North Plaza. Access is located at 2005 Lake Robbins Drive.
Parking
Free parking for guests with mobility impairments is available with proper state identification. There are a limited number of parking spaces available on a first come, first served basis in the Gold Lot adjacent to the Town Center Parking Garage. Access is via Six Pines Drive.
Wheelchair Escort
If you or someone in your party requires the use of a wheelchair to get to their seat, please notify a Pavilion staff member. First Aid is equipped with wheelchairs to help escort people to their seats if needed. Please note wheelchairs cannot be rented or loaned to guests for the length of their stay. Courtesy wheelchair escort is available only for guests getting to their seats, and is not available for guests going to or from concessions, the restroom or other destinations throughout the venue.
Seating
Accessible seating for guests with mobility impairments is located in various sections of the seating area and at various price levels.
How to Purchase Tickets for the Mobility Impaired
Reserved seating is available in designated areas for guests requiring accessible seating. You can purchase these tickets at The Pavilion Box Office or online through Ticketmaster.
Please note that The Pavilion Box Office only accepts purchases in person. Ticket purchases at The Pavilion Box cannot be made over the phone or online. The seasonal hours of the Box Office are Monday through Friday from 10 a.m. to 5 p.m. (March - November) and on event days through intermission. The Box Office is located at the north entrance of The Pavilion at 2005 Lake Robbins Drive in The Woodlands. The Pavilion Box Office can also be reached at 281-364-3024.
When purchasing tickets at The Pavilion Box Office or through Ticketmaster, service charges will apply. Refunds and exchanges are NOT allowed after purchase. Ticket prices are subject to change without notice. Pavilion events take place rain or shine.
Restrooms
The Pavilion has specially adapted restroom facilities for guests who use wheelchairs. For guests requiring a companion or assistance from someone of the opposite sex, a wheelchair-accessible, private restroom is available in all concessions plazas. If this restroom is locked, please check with a red-shirted supervisor for assistance.
Concessions
Concession stand personnel are available to assist guests with mobility impairments in purchasing food and beverages. The stands adjacent to the lawn stairs have accessible windows for guests with wheelchairs. Accessible drinking fountains are available in all plazas.
For Guests with Hearing Impairments
American Sign Language interpretation is available upon request. So we can provide qualified and appropriately prepared signers, The Pavilion requires signing requests at least three weeks prior to the concert.
To assist with amplification and clarity, headsets are available during all performances. The Pavilion uses Phonic-Ear FM equipment on the 75.475 MHz frequency (Channel 22). Please visit the Information Booth located in the North Plaza to arrange for use of a unit at no charge.