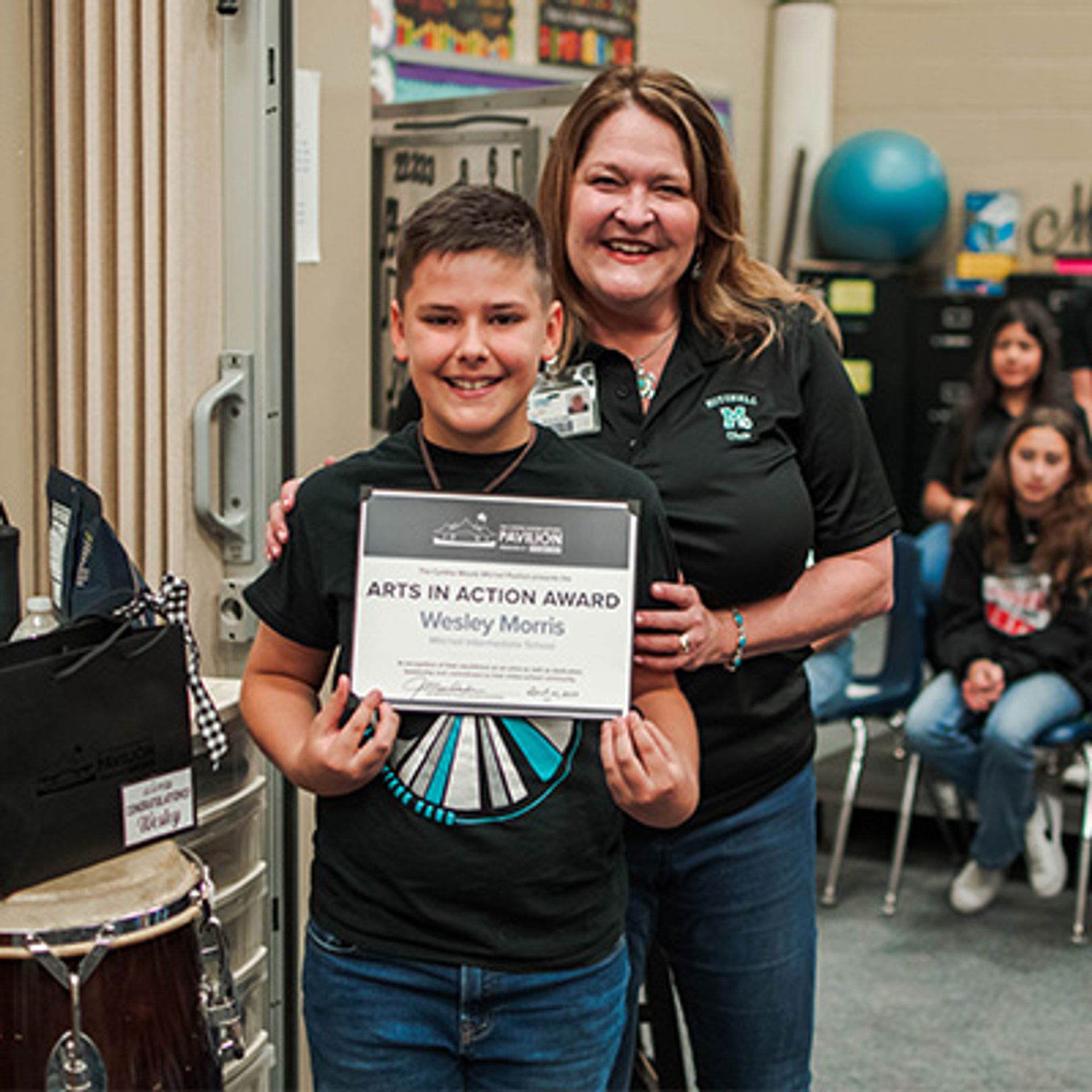 The Pavilion Recognizes Outstanding Arts Students with the Arts in Action Awards Program
THE WOODLANDS, TEXAS – The Cynthia Woods Mitchell Pavilion's Arts in Action award program aims to recognize, reward and encourage talent and achievement in the performing arts among middle and junior high school students around the greater Houston area.
The Pavilion recently recognized 20 students from several school districts that were nominated by their music teacher/director, not only for their excellence as artists, but for the dedication, leadership and commitment to their entire school community. Award winners received a certificate and small prize for their honor from The Pavilion and will be featured on The Pavilion's social and digital marketing channels.

"The Pavilion is dedicated to supporting students studying the fine arts in and around our community," said Jerry MacDonald, president and CEO of The Cynthia Woods Mitchell Pavilion. "It's an honor for us to recognize these outstanding artists as part of our mission and I commend them all on their loyalty and commitment to the arts."

Rylee Betts, Clark Intermediate School
Lionel Brown, Garcia Middle School
Natalie Davis, Keefer Crossing Middle School
Judson Densmore, Keefer Crossing Middle School
Justice Dutchover, McCullough Junior High School
Yocelin Garcia Lozano, Keefer Crossing Middle School
Aimee Garza, Doerre Intermediate School
Kayla Isaacks, York Junior High School
Claire Le, Keefer Crossing Middle School
Carmella Malabay, Bailey School for the Performing Arts
Rayln Miles, Hofius Intermediate School
Valerie Molina, Keefer Crossing Middle School
Michael Morgan, Pine Valley Middle School
Wesley Morris, Mitchell Intermediate School
Kaitlin Nelson, Spring Leadership Academy
Mary Nguyen, O'Donnell Middle School
Jimena Olvera, Keefer Crossing Middle School
Justin Ramos Murray, Keefer Crossing Middle School
Charlotte Stablein, McCullough Junior High School
Ally Walters, Hofius Intermediate School
"She is a pillar of the school who is always willing to lend a helping hand. She has a cheerful attitude that spreads every time she smiles. She takes on challenges when acting and works extremely hard to create amazing characters," says one nominating teacher.
"He is a hard worker who puts his entire heart and soul into every performance he gives. He has set a level of expectation for his section that has helped not only make him a strong trumpet player but has helped his trumpet section grow as well. He is someone who is always willing to lend a helping hand and always represents our band program in the most positive ways," says another teacher of their nominated student.
As part of their non-profit mission, The Pavilion creates and facilitates programs that enable the next generation of artists to grow and learn. The Arts in Action award program was implemented in 2021 and gave the organization an amazing opportunity to impact arts students that due to COVID-19 were not able to attend physical events at the venue.
For more information about The Pavilion, please visit our website at www.woodlandscenter.org. Follow The Pavilion on Facebook, Twitter, YouTube and Instagram.
# # #
Opened in 1990, The Cynthia Woods Mitchell Pavilion is part of The Center for the Performing Arts at The Woodlands, a nonprofit 501 (c)(3) organization that provides diverse, high-quality performing arts events for the entertainment and enrichment of a broad regional audience. Through numerous educational and community outreach programs, The Center is a catalyst for attracting new audiences to the performing arts and building strong ties between the arts and educational institutions.