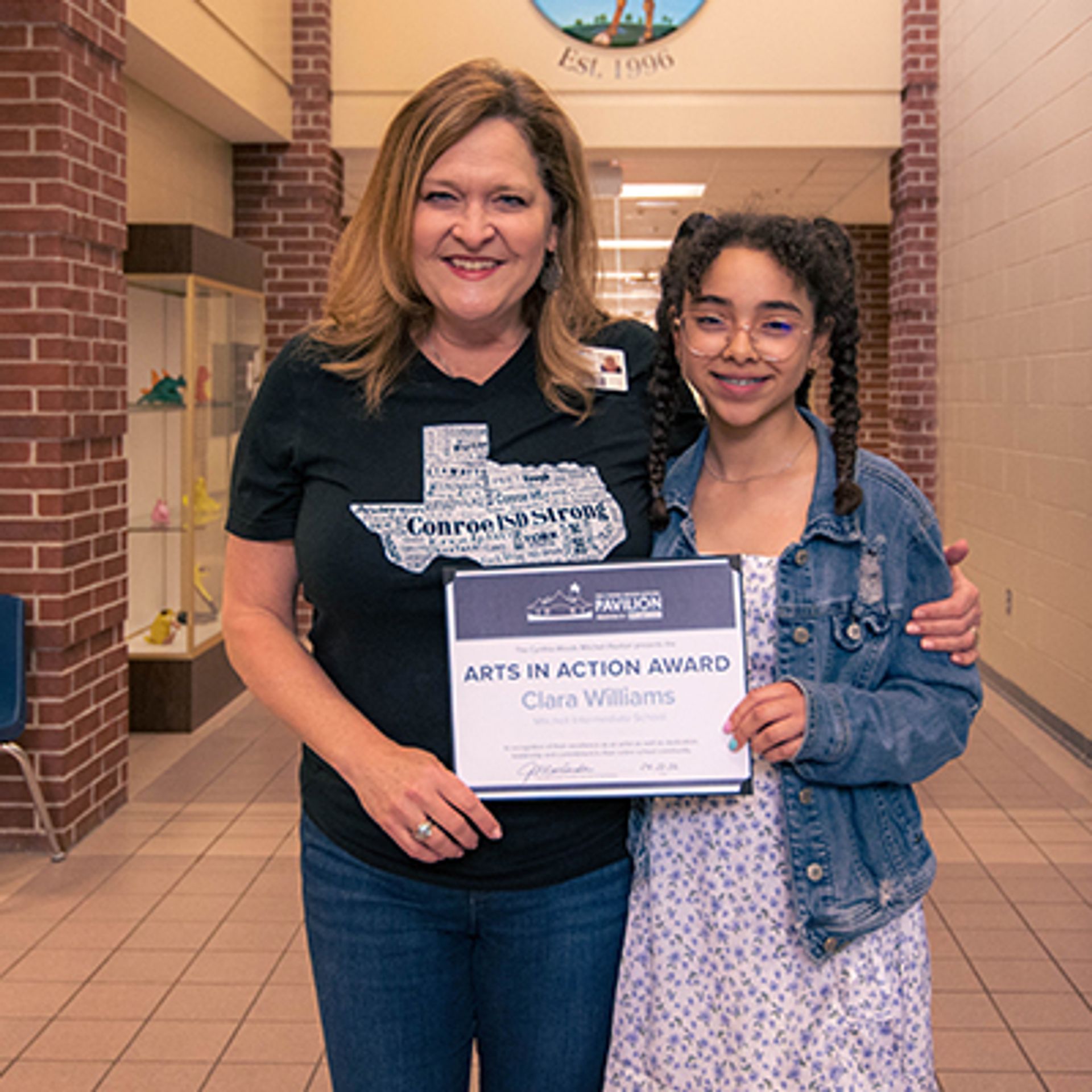 The Pavilion Recognizes Outstanding Arts Students with the Arts in Action Awards Program
THE WOODLANDS, TEXAS – The Cynthia Woods Mitchell Pavilion's Arts in Action award program aims to recognize, reward and encourage talent and achievement in the performing arts among middle and junior high school students around the greater Houston area.
The Pavilion recently recognized 19 students from several school districts that were nominated by their music teacher/director, not only for their excellence as artists, but for the dedication, leadership and commitment to their entire school community. Award winners received a certificate and small prize for their honor from The Pavilion and will be featured on The Pavilion's social and digital marketing channels.
"The Pavilion is dedicated to supporting students studying the fine arts in and around our community," said Jerry MacDonald, president and CEO of The Cynthia Woods Mitchell Pavilion. "It's an honor for us to recognize these outstanding artists as part of our mission and I commend them all on their loyalty and commitment to the arts."
Camden Clough, McCullough Junior High School
Leah Colon, Hofius Intermediate School
Natalie Elmore, Garcia Middle School
Sofia Fish, Doerre Intermediate School
Emily Floco, Knox Junior High School
Nicole Fountain, McCullough Junior High School
Adam Gehman, Schindewolf Intermediate School
Owen McGlashan, Doerre Intermediate School
Jade Moore, School for International Studies at Bammel
Viviana Ortiz, Vogel Intermediate School
Genesis Padilla, School for International Studies at Bammel
Bruno Pena, McCullough Junior High School
Alex Phan, Wilkerson Intermediate School
Eryka Richardson, New Caney High School
Karizma Sanchez, Hofius Intermediate School
Grace Shipferling, Hofius Intermediate School
Presley Weaver, Vogel Intermediate School
Dedrick Wilkerson, School for International Studies at Bammel
Clara Williams, Mitchell Intermediate School
"She is an outstanding, dedicated musician and invests herself in every aspect of music making. She will represent you well and make you, and our surrounding community, very proud indeed," says one nominating teacher.
"Outside of the arts, he's an excellent academic student, a soccer player and overall, a kind young
man. He has an extremely bright future in anything he does related to the arts and beyond," says another teacher of their nominated student.
As part of their non-profit mission, The Pavilion creates and facilitates programs that enable the next generation of artists to grow and learn. The Arts in Action award program was implemented in 2021 and gave the organization an amazing opportunity to impact arts students that due to COVID-19 were not able to attend physical events at the venue.
For more information about The Pavilion, please visit our website at www.woodlandscenter.org. Follow The Pavilion on Facebook, Twitter, YouTube and Instagram.
# # #
Opened in 1990, The Cynthia Woods Mitchell Pavilion is part of The Center for the Performing Arts at The Woodlands, a nonprofit 501 (c)(3) organization that provides diverse, high-quality performing arts events for the entertainment and enrichment of a broad regional audience. Through numerous educational and community outreach programs, The Center is a catalyst for attracting new audiences to the performing arts and building strong ties between the arts and educational institutions.