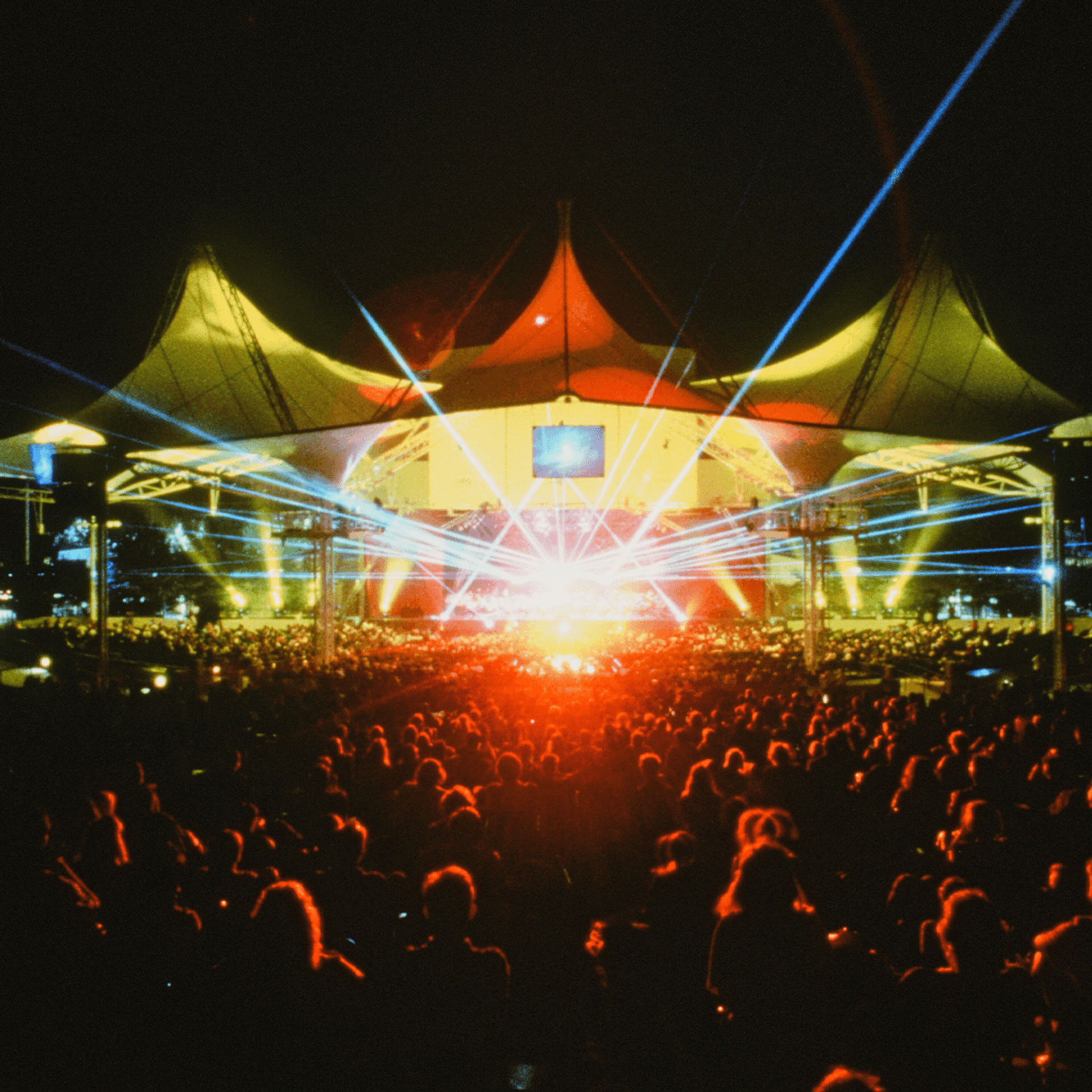 The Dream Continues
30 years ago, The Pavilion started with a single dream. We haven't slowed down since.
It all started with a dream envisioned by Cynthia Woods Mitchell, wife of The Woodlands' founder George Mitchell. A dream of having a first-class performing arts facility right here in The Woodlands that would serve as a venue for the arts and a home for the biggest performers in the world.
That dream came to life in April 1990 when The Cynthia Woods Mitchell Pavilion opened its gates and dazzled audiences with a star-packed weekend featuring performances by the Houston Symphony, Frank Sinatra and Alabama with Clint Black. Since then, The Pavilion has continued to provide the Greater Houston region with an array of educational outreach programs and world-class entertainment – everything from rock and country to modern opera and American ballet. These programs and performances have given so many their first introduction to the true power of a live performance. We've loved watching night after night as our shows have inspired a lifelong love of the arts in adults and children alike.
Three Decades of World-Class Shows
In three decades, our Main Stage has welcomed Houston's own internationally acclaimed performing arts organizations - the Houston Symphony, Houston Ballet and Houston Grand Opera - as well as popular touring artists such as Frank Sinatra, Bette Midler, Jimmy Buffett, Tina Turner, Elton John, Rod Stewart, Sting, Clint Black, Tim McGraw, Kenny Chesney, Foo Fighters, Aerosmith, John Mayer, Dave Matthews Band, Bruce Springsteen, Gwen Stefani and Cher - among many others.
Our 30th Season won't slow down - we've already announced a spectacular lineup of concerts including Bob Seger & The Silver Bullet Band, Jimmy Buffett, Hootie & The Blowfish, Train and Goo Goo Dolls, Leon Bridges, Iron Maiden, The Boston Pops On Tour, seven Houston Symphony performances, a full production of La bohème by Houston Grand Opera and a mixed repertory piece by the Houston Ballet – with plenty more still to come.
A Truly Special Season
We'll kick off our 30th year with a special performance by The Boston Pops on Tour Thursday, March 21, as they celebrate the music of John Williams, one of the greatest film composers of all time. The evening will feature excerpts from the William's best-loved scores, such as Star Wars, Harry Potter and Jurassic Park, as well as some lesser-known, but equally epic, gems.
"We are honored to provide top-quality live performances to our community and to our region. And like the initial dream of Cynthia Woods Mitchell, it is intended to be affordable and accessible in keeping with the venue's mission of fostering new audiences and enhancing an appreciation of the arts. I hope The Woodlands residents bring their families to The Pavilion to support our performing arts events. Having The Boston Pops on Tour perform in The Woodlands on our stage is a once in a lifetime event and I hope we pack the house," says Jerry MacDonald, president and CEO of The Pavilion.
What Drives The Pavilion?
Over the past three decades, much has changed at The Pavilion, but our purpose has remained constant – to introduce new audiences to a wide array of diverse performing arts.
Educational outreach has always been an integral part of that core purpose. Through training and performance opportunities, numerous outreach programs including Musical Scores, Fine Arts Education Day, Music in Motion and Children's Festival—which reach approximately 40,000 students and their families each year—and several community programs that enlighten and enrich the lives of thousands of people, The Pavilion continues to play an essential role in making the arts accessible to everyone.
---
With 29 years of the biggest, brightest and most inspiring shows in the business behind us, and a thriving musical future ahead of us, we want to invite you into something really, really special –
Come see a show!
Until then, we can't wait to see you on the lawn.
- Scott Shaver | Social Media & Digital Marketing Coordinator
P.S. Want to get even more involved at The Pavilion? Head here.