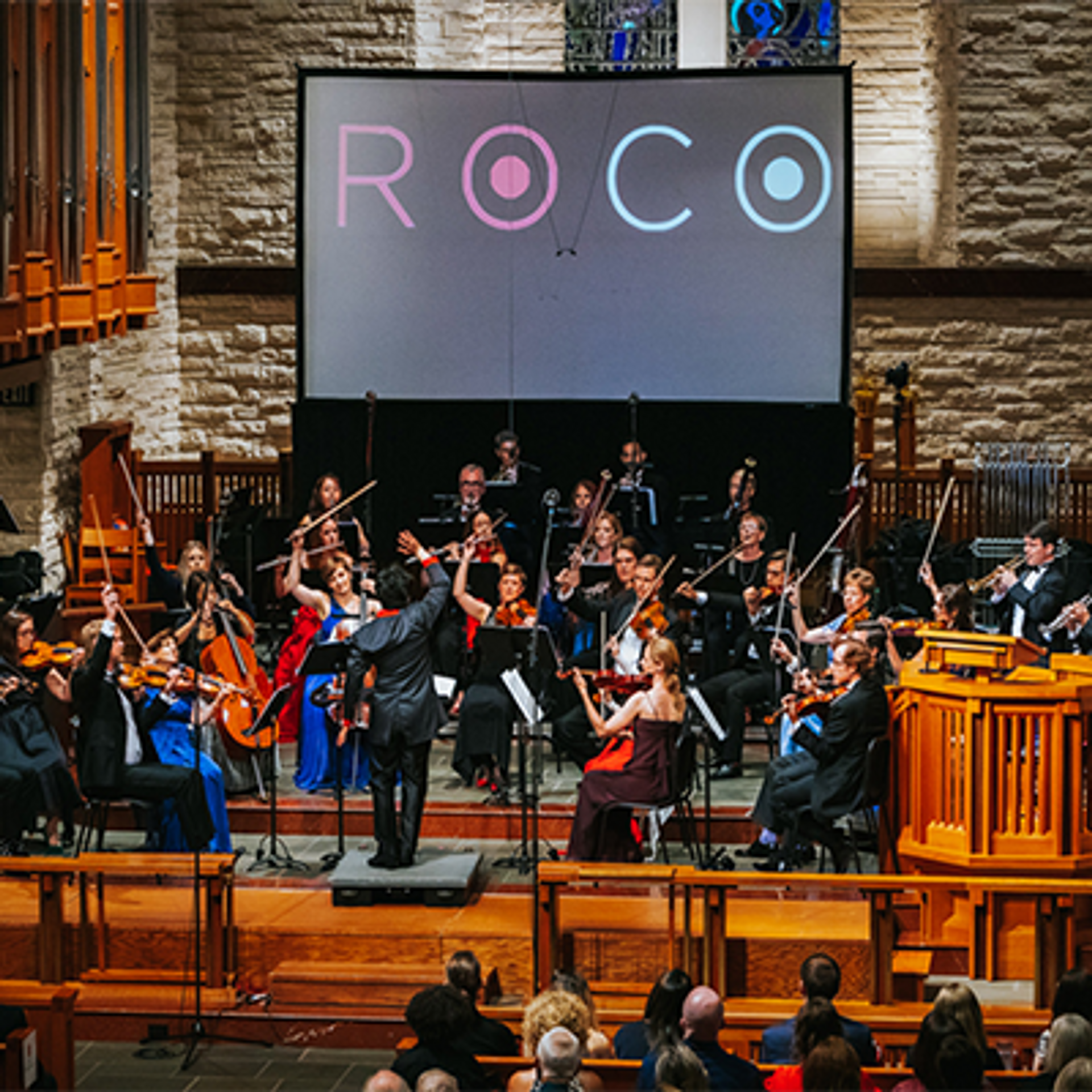 The Pavilion to Host ROCO Livestreamed Concert "Starburst" on the Main Stage
The Woodlands, TX - ROCO's (River Oaks Chamber Orchestra) In Concert series, which showcases the full 40-piece orchestra in livestreamed performances, kicks off September 26, 2020, from The Cynthia Woods Mitchell Pavilion's Main Stage with Starburst. Sparkling with musical light and energy, the fully virtual, free live-streamed performance will begin at 5:00 p.m. and will be conducted by ROCO Artistic Partner Mei-Ann Chen. Tune in and interact with the orchestra on Facebook Live, YouTube Live, or their website, at www.roco.org/live.
"What a gift to ROCO for us to be able to open our 16th season at The Cynthia Woods Mitchell Pavilion! It isn't just that it is an outdoor theatre that will provide a safer environment for our musicians, but it is also a jewel of a venue and one of the special places where Houston's spirit shines best," said Alecia Lawyer, ROCO Founder/Artistic Director/Principal Oboist.

Conducted by ROCO's Artistic Partner, Mei-Ann Chen, Starburst is built around a world premiere commission by composer and bandoneonist Richard Scofano, who will also be the featured soloist for the work. The symphonic poem, entitled La Tierra Sin Mal (translating to The Land Without Evil), is inspired by the mythology of the Guaraní people, and takes the form of a concerto for bandoneon (a Latin-American bellowed instrument) and orchestra. Starburst will also present works from Fauré, Debussy, and Sibelius, as well as more modern composers, including Jessie Montgomery's piece Starburst, and the instrumental version of Eric Whitacre's Lux Aurumque.
"We are excited to host ROCO at our venue for such an exciting performance," said Jerry MacDonald, President and CEO of The Pavilion. "This is a wonderful opportunity for us to broaden our performing arts offering in a fun and unique way and we hope everyone will join in to watch the livestream performance."
For more information about ROCO or the Starburst performance, please visit www.roco.org/performances/roco-in-concert-starburst.

e visit our website at www.woodlandscenter.org. Look for The Pavilion on Facebook, Twitter, Snapchat, YouTube and Instagram, or download The Pavilion's iOS or Android app.
# # #
Opened in 1990, The Cynthia Woods Mitchell Pavilion is part of The Center for the Performing Arts at The Woodlands, a nonprofit 501 (c)(3) organization that provides diverse, high-quality performing arts events for the entertainment and enrichment of a broad regional audience. Through numerous educational and community outreach programs, The Center is a catalyst for attracting new audiences to the performing arts and building strong ties between the arts and educational institutions.
About ROCO: ROCO is a dynamic and innovative professional music ensemble that flexes from 1 to 40 players from all over the US and Canada, with guest artists from around the world. Performing intimate concerts in dozens of venues, ROCO's musicians don't just give concerts – they challenge preconceptions, create extraordinary experiences, and foster new relationships with audiences through the language of music. ROCO's debut album, Visions Take Flight, was recognized for a GRAMMY® Award for Producer of the Year for Blanton Alspaugh.
Widely recognized for diversity in programming, a recent study from the Institute for Composer Diversity found ROCO is the number one ensemble in the US for performing the works of women and number two for the works of composers of color. Additionally, ROCO has the third-highest number of commissions in the United States and has premiered nearly 100 commissions from living composers. ROCO embraces technology, with free worldwide concert livestreams and real-time artist commentary via a smartphone app, as well as on-demand recordings of past concerts via popular music streaming services. A vital part of the community, ROCO concert DVDs are sent to nursing homes and hospitals to bring music to those immobile communities, and their music education/childcare program called ROCOrooters attracts multigenerational audiences.