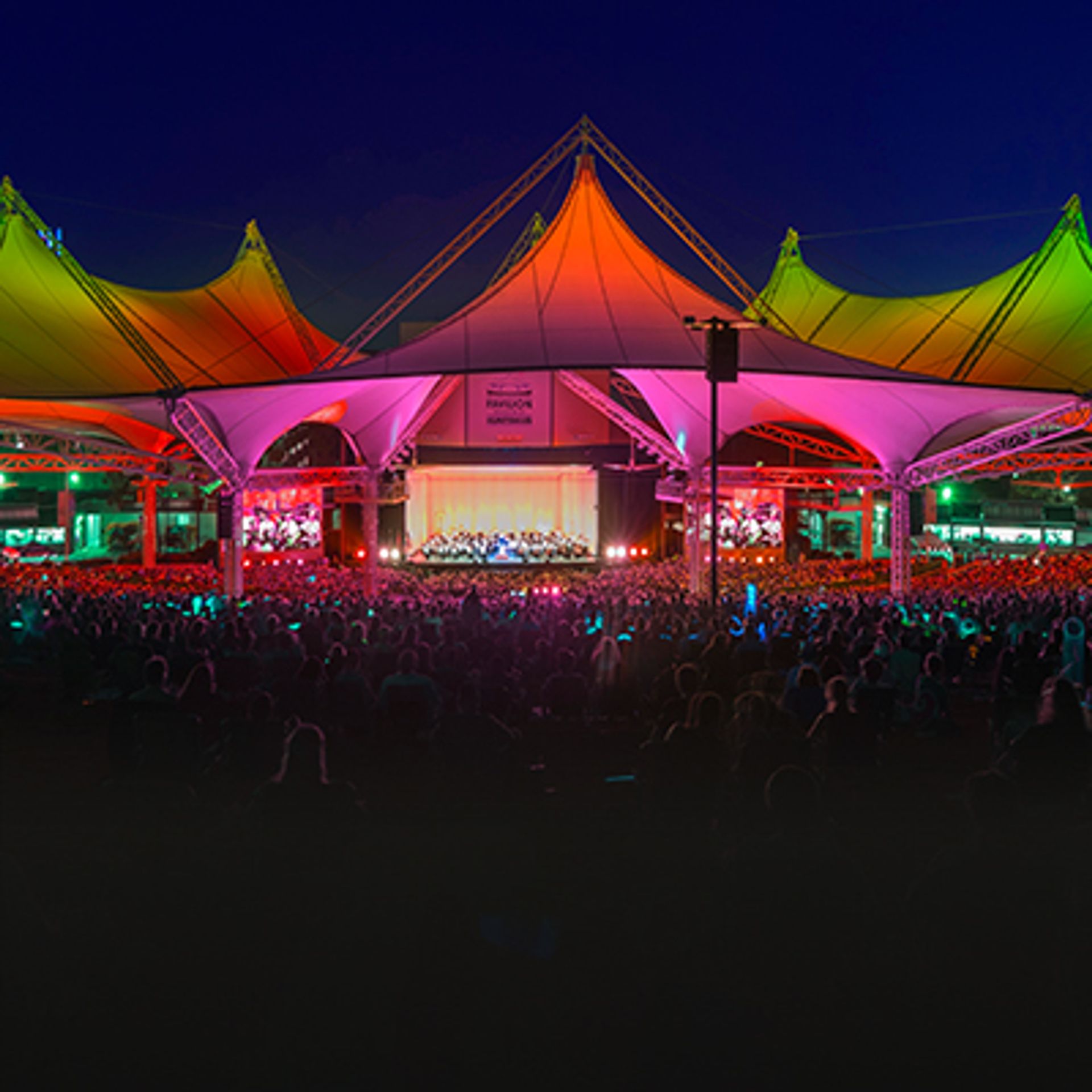 HOUSTON SYMPHONY PAYS TRIBUTE TO DAVID BOWIE ON THE PAVILION MAIN STAGE JULY 16
The Woodlands, Texas – Celebrate the music of rock legend David Bowie in this exhilarating musical tribute sponsored by Huntsman! The Houston Symphony will return to The Pavilion Main Stage on Monday, July 16 for an evening honoring Bowie's life and featuring a variety of his classic hits! Tickets for the 8 p.m. performance are $20 for reserved orchestra seating. Mezzanine and lawn seating are free. Gates open at 7 p.m.
David Bowie's unique life and musical sensibilities provide a wide range of different sounds and elements that's quite different from what Windborne has done in the past. Bowie's influence abounds within not only the rock community, such as his work with Queen and John Lennon, but also crosses into multiple genres including his work with Pat Metheny or his contribution to a soundtrack with Giorgio Moroder. The evening will be conducted by Brent Havens and will feature vocalist and recording artist Tony Vincent.
Pre-performance activities will begin at 7 p.m. in the North Plaza and include The Pavilion Partners arts & crafts booth and Instrument Petting Zoo as well as activations by Fidelity, Renewal by Andersen, Tommy Bahama and Woodforest National Bank.
Families are encouraged to enhance their performing arts experience with Mini Maestros, a free and exciting program that makes the arts both fun and accessible for kids of all ages. By signing up for Mini Maestros, children will receive: a special membership lanyard and badge, free reserved seating at all performing arts events, early entry for Hocus Pocus Pops and other great perks throughout the season. Families can register their children at any of The Pavilion's performing arts events this season at a special booth located in the North Plaza or online at www.woodlandscenter.org/mini-maestros.
Guests are welcome to bring a picnic from home or their favorite restaurant to enjoy in their seat or on the lawn. Keep in mind however, that beverages are not allowed to be brought into The Pavilion and picnics must comply with The Pavilion's bag size restriction and/or be in original packaging. Examples include pizza within a pizza box or chips in original sealed packaging. Please visit The Pavilion's website for more information on these restrictions. For those wanting to sit on the hill, lawn chairs also are provided free for this event.
For more information about The Pavilion, please visit our website at www.woodlandscenter.org. Look for The Pavilion on Facebook, Twitter, Snapchat, YouTube and Instagram, or download The Pavilion's iOS or Android app.

# # #
Opened in 1990, The Cynthia Woods Mitchell Pavilion is part of The Center for the Performing Arts at The Woodlands, a nonprofit 501 (c)(3) organization that provides diverse, high-quality performing arts events for the entertainment and enrichment of a broad regional audience. Through numerous educational and community outreach programs, The Center is a catalyst for attracting new audiences to the performing arts and building strong ties between the arts and educational institutions.