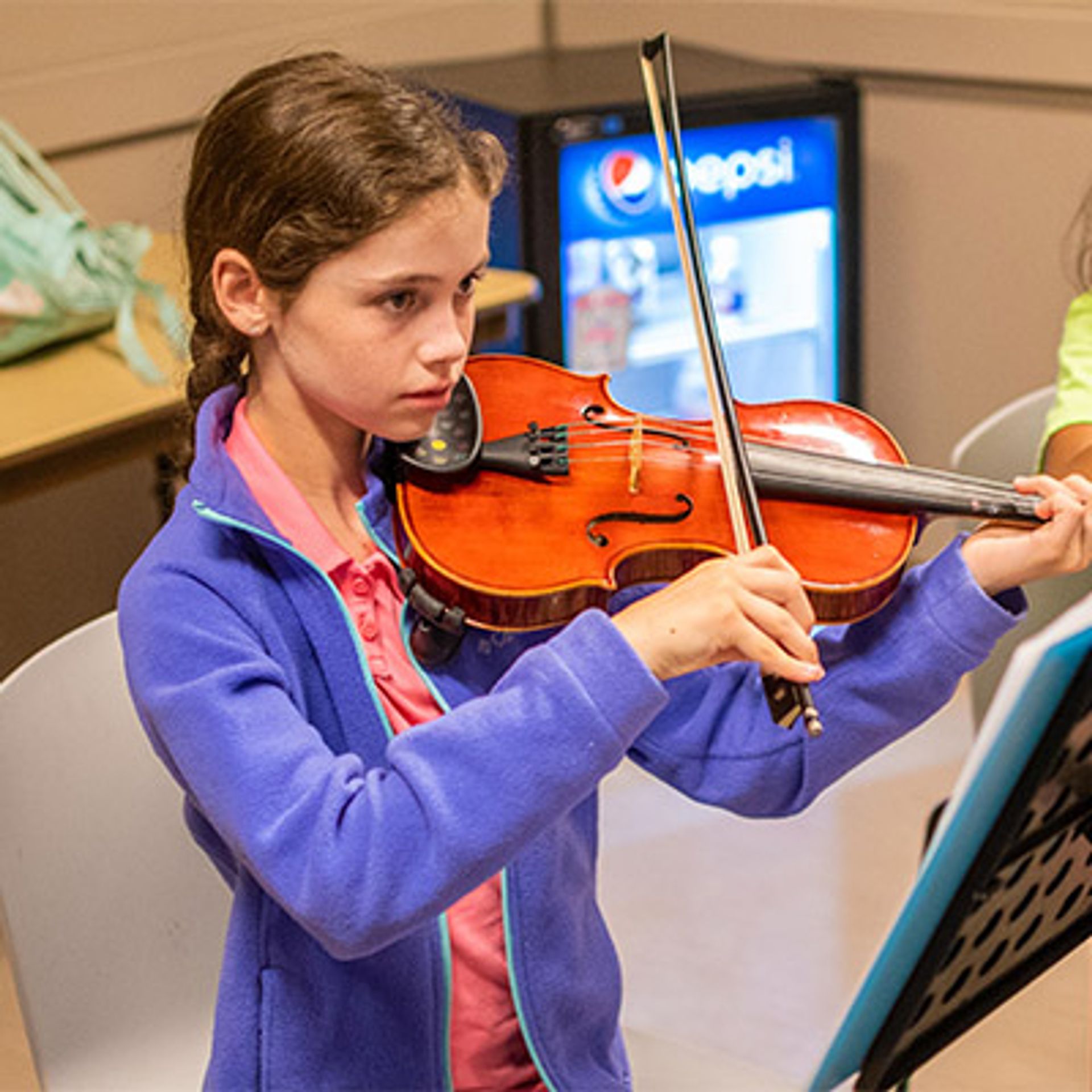 THE PAVILION HOSTS CHAMBER MUSIC CAMP LED BY JULLIARD-TRAINED FACULTY FOR AREA STUDENTS
The Woodlands, Texas – The Woodlands ChamberFest recently returned to The Cynthia Woods Mitchell Pavilion for a seventh year of lessons from notable Julliard alumni. Over thirty-five students attended the week-long chamber music program for students in grades 7 through 12 who play violin, viola, cello and bass. As one of The Pavilion's educational outreach programs, the summer music camp is dedicated to teaching communication, collaboration and leadership through chamber music.
ChamberFest was founded in 2012 by Marie Daniels, alumna of The Woodlands College Park High School and The Juilliard School and recipient of a Pavilion Partner Fine Arts Scholarship, as a response to a need she found within The Woodlands community. ChamberFest introduces middle- to high-school age students to the experience of rehearsals and performances in a small ensemble while enhancing their individual technique and musicality through coachings and private lessons with Julliard alumni. Students also have daily workshops on topics such as public speaking, improvisation, music history and communication through music.
On Wednesday, June 6, a pop-up concert was held at Market Street and gave students the chance to rehearse with their groups in a unique setting outside of the classroom. The camp culminated Thursday, June 7, with a finale concert held on The Pavilion Main Stage which featured a full program of performances by the student groups and faculty members.
"We are honored to produce the ChamberFest program," said Jerry MacDonald, president and CEO of The Pavilion. "We are always eager to offer rewarding musical experiences such as this one which so closely aligns with our own mission of providing training and performance opportunities for young artists in the community."
Research has shown that increased access and involvement in arts education can positively affect an entire student culture – especially student motivation, attitudes and attendance. Reports dictate that students who study the arts in their school years are more likely to engage with the arts in later life as consumers, performers or creators.
For more information about The Pavilion, please visit our website at www.woodlandscenter.org. Look for The Pavilion on Facebook, Twitter, Snapchat, YouTube and Instagram, or download The Pavilion's iOS or Android app.

# # #
Opened in 1990, The Cynthia Woods Mitchell Pavilion is part of The Center for the Performing Arts at The Woodlands, a nonprofit 501 (c)(3) organization that provides diverse, high-quality performing arts events for the entertainment and enrichment of a broad regional audience. Through numerous educational and community outreach programs, The Center is a catalyst for attracting new audiences to the performing arts and building strong ties between the arts and educational institutions.