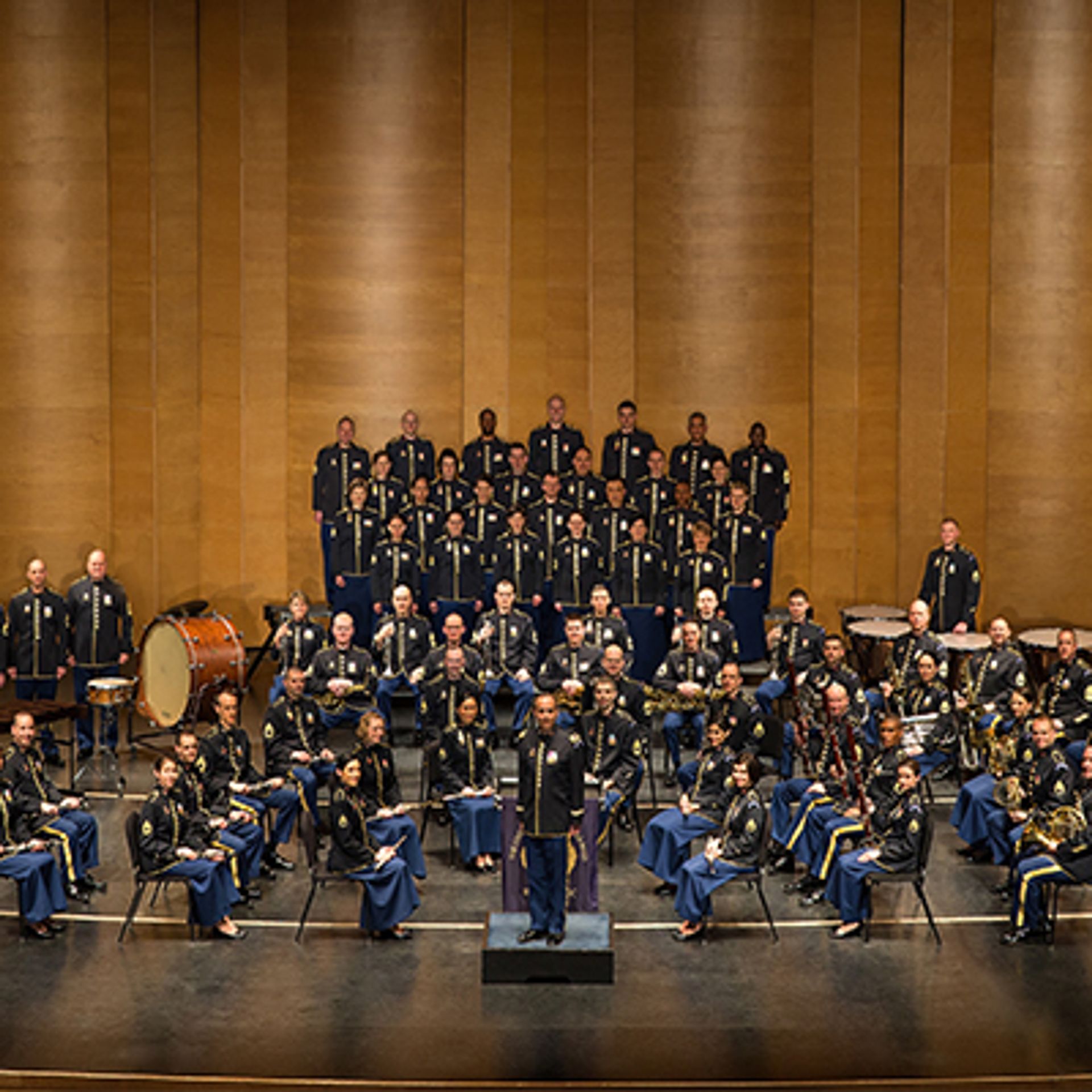 Continuing the Tradition with The United States Army Field Band and Soldiers' Chorus July 25
The Woodlands, Texas – The internationally acclaimed United States Army Field Band and Soldiers' Chorus of Washington, DC will continue its long tradition of presenting free public performances when it appears at The Pavilion on Thursday, July 25 at 7 p.m. Gates open at 6 p.m. This is a free event and tickets are not required.
The Concert Band & Soldiers' Chorus are the oldest and largest of The U.S. Army Field Band's performing components. Founded in 1946 and 1957 respectively, these two ensembles combine to present joint concerts on their national tours. They have performed in all 50 states and 30 foreign countries for audiences totaling hundreds of millions.
The 60-member Concert Band and 29-member Soldiers' Chorus perform regularly in some of the most famous concert halls in the world, and just as often in the humblest auditoriums in the smallest of communities. The joining of these two ensembles allows them to offer unparalleled versatility of programming, ranging from orchestral masterworks and operatic arias to Sousa marches, jazz classics, and Broadway musicals. The band and chorus also perform independently, and have recently shared the stage with such ensembles as the Boston Pops, the Cincinnati Pops, the Detroit Symphony Orchestra, and the National Symphony Orchestra.
"It was an honor to host the Army Field Band in 2009 and we are honored again that they will be returning for an exciting performance that provides residents an opportunity to honor our servicemen and women," said Jerry MacDonald, President and CEO of The Pavilion.
During pre-concert activities beginning at 6 p.m., Boy Scouts and Girl Scouts will have the opportunity to complete their music merit badge through a variety of requirements set up throughout The Pavilion's North Plaza. Scout Day is designed to provide an opportunity for scouts to earn their musical badge through attending a live concert and participating in fun, interactive activities that satisfy badge requirements. Scout Day is provided at no cost, but all scouts must pre-register online in order to participate. Registration is available online at www.woodlandscenter.org/scoutday and ends Monday, July 22. For questions or more information, please contact Ashley Gravois at agravois@woodlandscenter.org.
Other plaza activities include The Pavilion Partners Arts & Crafts booth and Instrument Petting Zoo as well as sponsor activities by Woodforest National Bank and Renewal by Andersen.
Families are also strongly encouraged to enhance their child's performing arts experience with Mini Maestros, a free and exciting program that makes the arts both fun, accessible and interactive for kids of all ages. By signing up for Mini Maestros, children will receive: a special membership lanyard and badge, free reserved seating at all performing arts events, early entry for Hocus Pocus Pops, a free ticket to Children's Festival and other great perks throughout the season. Families can register their children at any of The Pavilion's performing arts events this season at a special booth located in the North Plaza or online at www.woodlandscenter.org/mini-maestros.
Guests are welcome to bring a picnic from home or their favorite restaurant to enjoy in their seat or on the lawn. Keep in mind however, that beverages are not allowed to be brought into The Pavilion and picnics must comply with The Pavilion's bag size restriction and/or be in original packaging. Examples include pizza within a pizza box or chips in original sealed packaging. Please visit The Pavilion's website for more information on these restrictions. For those wanting to sit on the hill, lawn chairs also are provided free for this event.
Preferred parking is available in the on-site Town Center Garage, located along Six Pines Drive. Parking is $10 per vehicle for this and most performing arts events. Tickets for on-site parking can be purchased in advance at Ticketmaster.com and The Pavilion Box Office. Guests also may park in any of the free parking lots off Timberloch Drive on the southwest side of The Pavilion.
For more information about The Pavilion, please visit our website at www.woodlandscenter.org. Look for The Pavilion on Facebook, Twitter, Snapchat, YouTube and Instagram, or download The Pavilion's iOS or Android app.

# # #
Opened in 1990, The Cynthia Woods Mitchell Pavilion is part of The Center for the Performing Arts at The Woodlands, a nonprofit 501 (c)(3) organization that provides diverse, high-quality performing arts events for the entertainment and enrichment of a broad regional audience. Through numerous educational and community outreach programs, The Center is a catalyst for attracting new audiences to the performing arts and building strong ties between the arts and educational institutions.