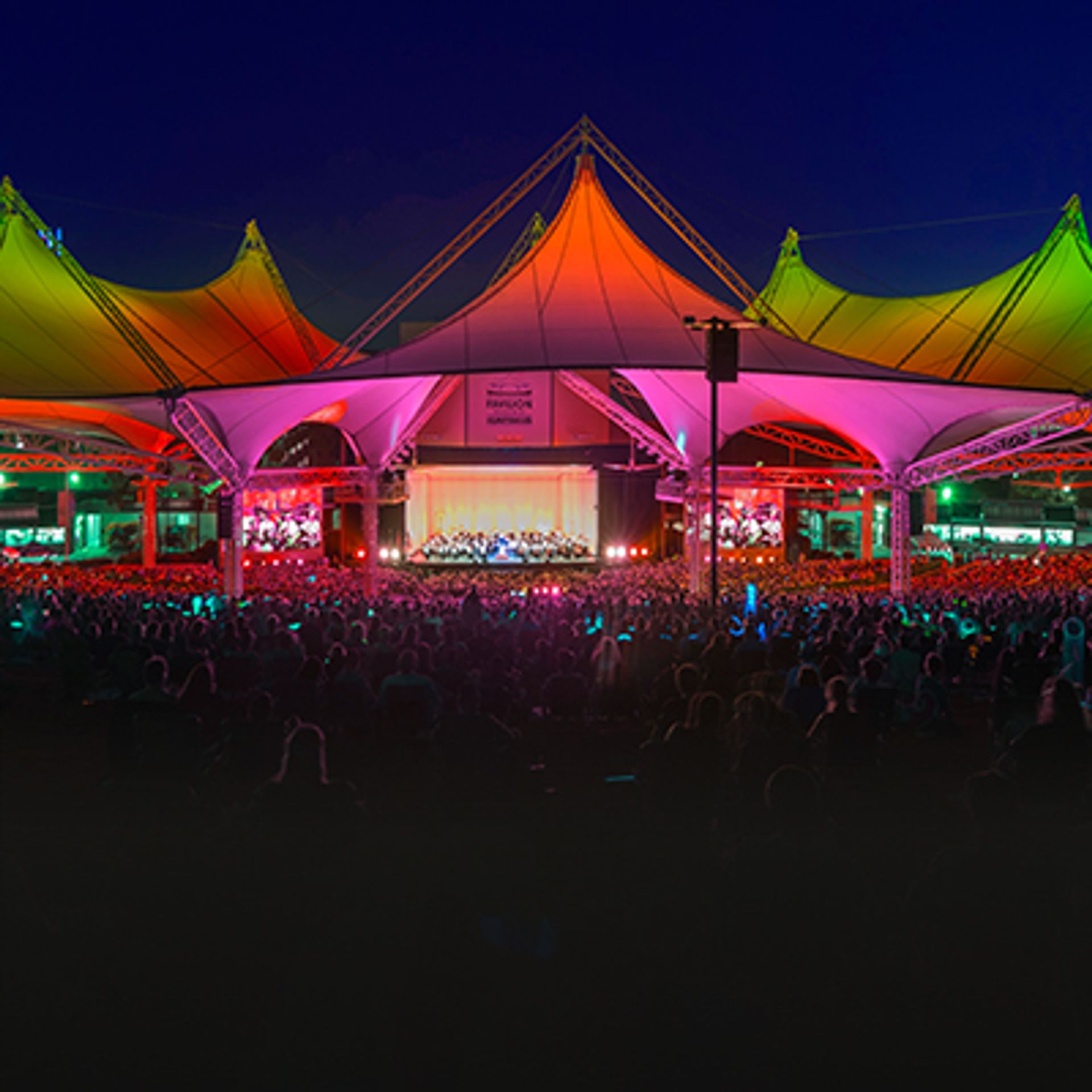 THE PAVILION UNVEILS 2018 PERFORMING ARTS SEASON LINEUP
The Woodlands, Texas – The Cynthia Woods Mitchell Pavilion is excited to announce its 2018 Performing Arts Season, featuring eight Houston Symphony performances, a full production of The Barber of Seville by Houston Grand Opera and a mixed repertory piece by the Houston Ballet.
The Pavilion will kick off the performing arts season on May 4 by welcoming the dancers of the Houston Ballet to the Main Stage for their Mixed Repertory program. The evening will feature sample pieces from the company's recent performances including George Balanchine's "Symphony in C" piece. Choreographed to French composer George Bizet's ravishing Symphony in C Major, this neoclassical ballet radiantly showcases the full company's technical aptitude and poise.
On May 23, Houston Grand Opera will bring Italian-composer Gioachino Rossini's greatest masterpiece, The Barber of Seville, to vivid life. When the handsome Count Almaviva falls in love with the beautiful Rosina, he solicits Figaro, the town's crafty barber, to help win her favor and make a fool of her ridiculous guardian, Dr. Bartolo. Audiences will delight in this plot, full of twists and turns, mistaken identities, and the triumph of young love, all wrapped up in Rossini's unmistakably masterful music.
Celebrate the end of school and start of summer with a concert and movie! On May 31, journey over the rainbow and down the Yellow Brick Road at The Wizard of Oz—Film with Live Orchestra.The film's timeless score will be performed by the Houston Symphony and perfectly synchronized to every scene of this classic movie. On June 13, be treated to another concert and movie as the Symphony performs live and in sync with the classic thriller film Jaws.
As the "Summer Home" for the Houston Symphony, attendees are guaranteed to be entertained all season by an exciting lineup of orchestra performances including Wild Wild West, The Music of David Bowie, Blue Suede Tunes and Rebels, Raiders and Supermen: A Tribute to John Williams.
Tickets for most performances are $20 for orchestra seating. Mezzanine and lawn seating are free. Guests are welcome to bring a picnic from home or their favorite restaurant to enjoy in their seat or on the hill. Keep in mind that beverages cannot be brought into The Pavilion and picnics must also comply with The Pavilion's bag size restriction and/or be in original packaging.
Enhance your experience with a Performing Arts Season Subscription! For $175 per seat, you can enjoy orchestra-level seating to all Houston Symphony, Houston Ballet and Houston Grand Opera performances at The Pavilion, on-site garage parking, admission to the Woodforest Bank Club for each performance and more. Performing arts subscribers also receive preferred seating and on-site garage parking for the Houston Symphony's Star-Spangled Salute, Texas Music Festival Orchestra and Holly Jolly Jingle. The total value of the performing arts season package is $485. Children's Festival is not included in season subscriptions, but individual tickets are available for purchase.
The Pavilion is also offering a "Pick 3" package that gives you the ability to curate your own season of memorable performing arts events. Select any three performing arts events that fit your schedule and tastes and save 20% or more off the combined single-event ticket prices.
Individual tickets and new season subscriptions will go on sale on Friday, April 6 at 12 p.m. Tickets can be purchased at The Pavilion Box Office, located at 2005 Lake Robbins Drive in The Woodlands, Texas. Tickets also are available by calling 800-745-3000 or online at www.ticketmaster.com.
Performances included in the 2018 Performing Arts Season are:
Friday, May 4: Houston Ballet, Mixed Repertory featuring Balanchine's Symphony in C 8 p.m. / Gates: 7 p.m.
Wednesday, May 23: Houston Grand Opera, The Barber of Seville 8 p.m. / Gates: 7 p.m.
Thursday, May 31: Houston Symphony, The Wizard of Oz—Film with Live Orchestra 8 p.m. / Gates: 6:30 p.m.
Thursday, June 7: Houston Symphony, Wild Wild West (Hats Off to Reading) 8 p.m. / Gates: 6:30 p.m.
Wednesday, June 13: Houston Symphony, Jaws—Film with Live Orchestra 8 p.m. / Gates: 7 p.m.
Friday, June 22: A Night of Dance featuring Texas Musical Festival Orchestra (Free Event) 8 p.m. / Gates: 7 p.m.
Tuesday, July 3: Houston Symphony, Star-Spangled Salute (Free Event) 8 p.m. / Gates: 6:30 p.m.
Monday, July 16: Houston Symphony, The Music of David Bowie 8 p.m. / Gates: 7 p.m.
Thursday, August 30: Houston Symphony, Blue Suede Tunes 8 p.m. / Gates: 7 p.m.
Tuesday, September 4: Houston Symphony, Rebels, Raiders & Superman—A Tribute to John Williams 8 p.m. / Gates: 7 p.m.
Friday, October 12: Houston Symphony, Hocus Pocus Pops 7:30 p.m. / Gates: 6 p.m.
November 10-11: 23rd Annual Children's Festival
Thursday, November 29: Holly Jolly Jingle (Free Event) 7:30 p.m. / Gates: 6 p.m.
If you would like more information about The Pavilion, please visit www.woodlandscenter.org. Look for The Pavilion on Facebook, Twitter, YouTube and Instagram, or download The Pavilion's iOS or Android app. For a full list of performing arts events, click here.

# # #
Opened in 1990, The Cynthia Woods Mitchell Pavilion is part of The Center for the Performing Arts at The Woodlands, a nonprofit 501 (c)(3) organization that provides diverse, high-quality performing arts events for the entertainment and enrichment of a broad regional audience. Through numerous educational and community outreach programs, The Center is a catalyst for attracting new audiences to the performing arts and building strong ties between the arts and educational institutions.