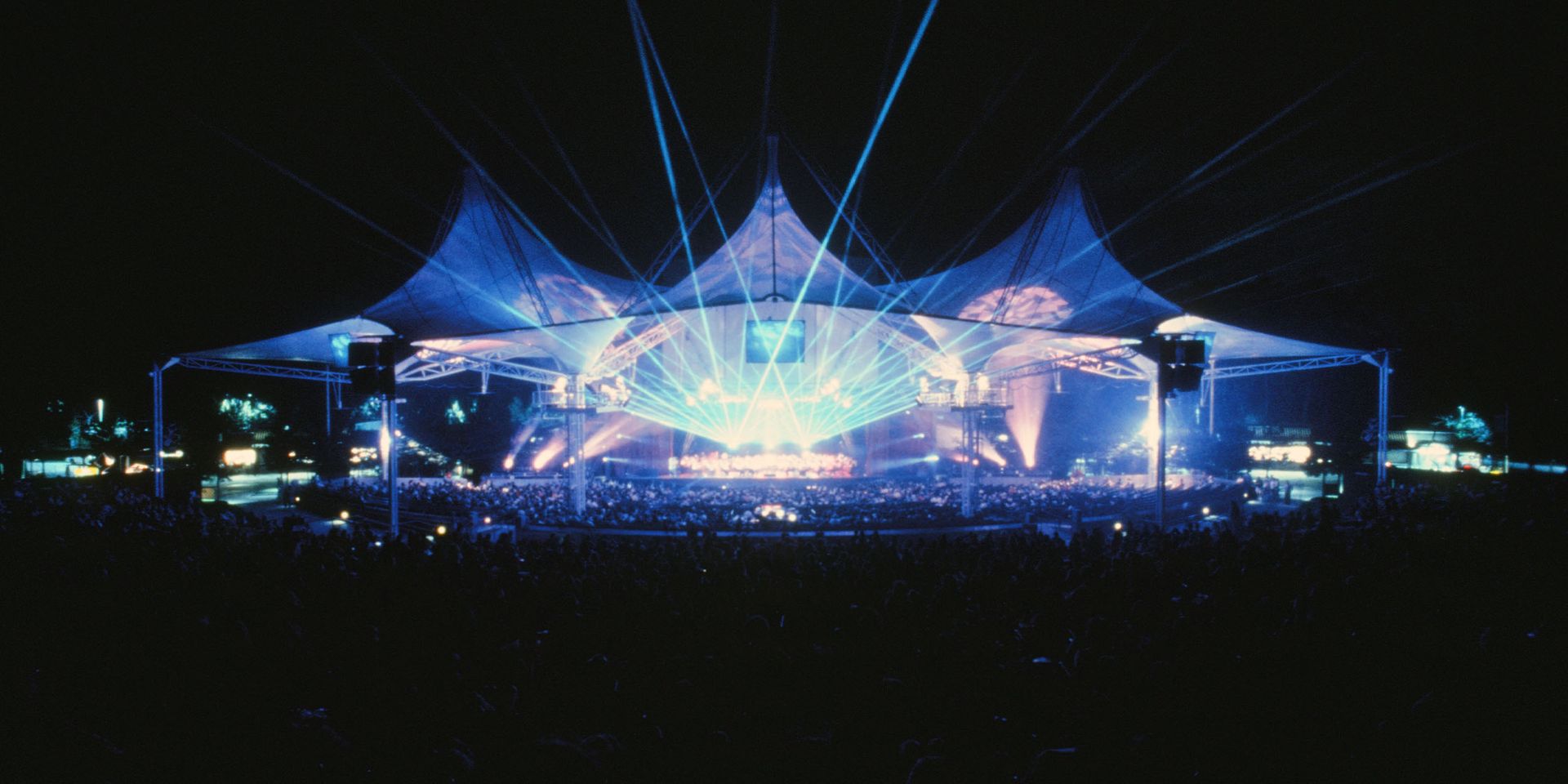 The Pavilion's History
From its first day, The Pavilion has existed to bring The Arts to you.
George P. Mitchell, founder of The Woodlands, along with his wife Cynthia Woods Mitchell, for whom The Pavilion is named, dreamed of creating a first-class performing arts facility for The Woodlands since the community's inception in 1974. They envisioned the facility as a venue for classical performances and educational events, as well as popular music.
The dream became a reality when The Pavilion opened with a star-studded gala weekend in April 1990. The Houston Symphony performed April 27, Frank Sinatra April 28, and Alabama with Clint Black on April 29. The original facility provided 3,000 reserved seats and room for 7,000 guests on the lawn.
In 1995, The Pavilion's Board of Directors approved its first expansion to add capacity and additional amenities for guests. This included an additional 1,900 uncovered reserved seats and increased lawn seating by 1,100 for a total capacity of approximately 13,000. The 6th season opened on April 18, 1995 with a sold-out crowd and Tom Petty & the Heartbreakers on the Main Stage.
In the early morning hours of September 13, 2008 Hurricane Ike made landfall as a Category 2 hurricane on the Gulf Coast and forever changed The Cynthia Woods Mitchell Pavilion. The 3rd most costly hurricane in United States history caused catastrophic damage to the facility forcing the cancellation of the remaining event season. In November 2008, The Pavilion Board of Directors approved the most ambitious construction project in venue history – the rebuild of nature's greatest stage. That December, crews started construction and in an unbelievable 160 days reopened as a whole new chapter for The Pavilion with Dave Matthews Band on the Main Stage. The new facility expanded the roof by almost 2.5 times increasing the number of covered seats to over 6,000.
Since The Pavilion's very first days, it has earned praise from both artists and audiences alike. The Pavilion now presents between 50 and 65 events every March through December, ranging in style from rock to classical, jazz to country, and modern opera to contemporary American ballet. We're the Summer Home of the Houston Symphony, the Home Away from Home of the Houston Ballet, and a presenting venue for the Houston Grand Opera and Texas Music Festival Orchestra. The Pavilion's national commercial attractions are produced and promoted by Live Nation. Performing arts events, including the annual Children's Festival, are produced and promoted by The Pavilion.
With several more state-of-the-art additions in the years since, including a dynamic, 21,000 square event center and first-class club, The Pavilion has separated itself as one of the top venues to experience a live performance. The Pavilion's added capacity to host fans, students and community events highlight a glowing future for this Woodlands icon.